Everything was moving: Photography from the 60s and 70s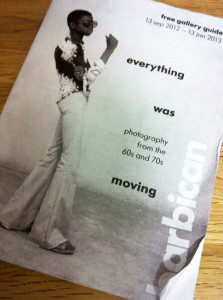 I was deeply moved by this show and can't help but feel it will have a long lasting effect. There was, to my view, a stronger narrative thread in the downstairs galleries but that may in part be because a number of the photographers included there were much more familiar to me.
I spent two hours wandering through and thinking about the works and their meanings before I realised what the time was, not something I always experience in exhibitions. It is a multi-layered show touching on the social, political, economic, cultural and psychological. It is also in many ways very confronting, or at least I found it to be, from the appalling injustices of apartheid to Japan post Hiroshima and the impact the US has etched on the country. It certainly put me in mind of Sontag's point about photography as an act of aggression and how this sat in relation to the fact that the content of many of these images is dealing directly with overt issues of aggression.
As a group show it also provided the opportunity to see a diverse range of techniques and approaches to the art of photography itself. From the hyper-real almost painterly large scale works of Larry Burrows to the sumptuous colour of Raghubir Singh. The works are beautifully observed and capture both the everyday and iconic moments. I couldn't help but wonder how much the various photographers were aware of these possible distinctions at the time. All dealt with acute issues of the human condition and I think should make us consider where we have come to in the last fifty years. It put me in mind of the TS Eliot Poem Little Gidding, the last of The Four Quartets (1943):
We shall not cease from exploration
And the end of all our exploring
Will be to arrive where we started
And know the place for the first time.
More details on the show can be found on the Barbican's Everything was Moving web page.